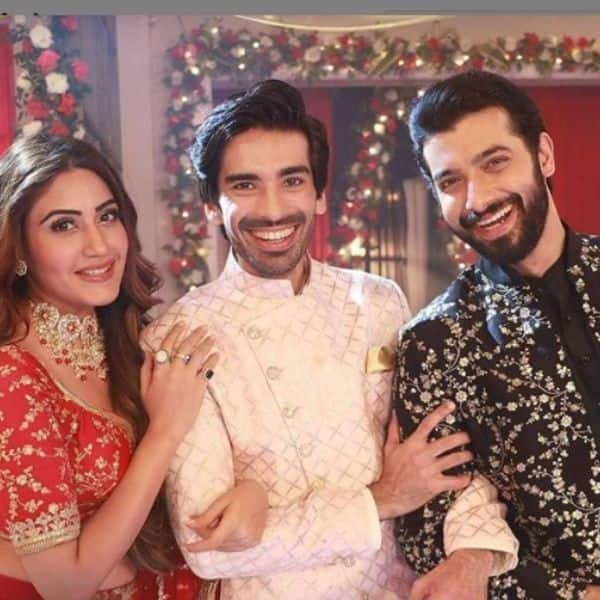 Naagin 5, 26 September 2020, written update of full episode:
Tonight's episode of Naagin 5 begins with Jai trying to loosen himself from captivity. Elsewhere, Bani is getting ready. Jai tries calling her. Bani faints and Mayuri asks her friend, Sunny to lay her on the bed. She goes to call Veer. Mayuri tries to instigate Veer against Bani but Bani foils her plan. Bani warns Mayuri. Veer asks her why she did not fight back, Bani ignores him. Jai reaches the party venue. Mayuri in her peahen avatar has a fight with Shukla, Balwant's aide. Veer's brothers share a light moment. Bani's family join her at the party. Mayuri joins Veer and tries to flirt with him. Also Read – Naagin 5, 26 September 2020, written update: Mayuri plans to eliminate Bani
Balwant is furious when the hourglass stops working. He asks about the same to Shukla. The hourglass stops whenever Bani is close to Veer. Mayuri tries to add spice to the party by instigating Veer's brothers. Mayuri keeps insulting Bani, however, the latter retaliates to her every insult. Bani takes her away from Meera and her family and she starts getting flashes of a peahen and a murder. Bani's aunt, Ritu introduces her daughters Mehek-Dahek to Veer's brothers. Daksh rips Meera's skirt. Veer slaps him while Bani covers her up. Veer makes him apologise to Meera. He also schools Meera and asks her to instill confidence in her. Jai enters into Veer's mansion. He takes Bani out. The latter turns emotional on seeing him hale and hearty. Jai reveals his ordeal to Bani. He names Monky, Ponky and Daksh. Bani reveals to Jai that she is married to Veer. Also Read – TRP LIST Week 37: Kundali Bhagya tops the chart, Kumkum Bhagya and Naagin 5 climb a step ahead
Veer saves Meera from being embarrassed in front of the guests at the party. Mayuri is curious about Bani's whereabouts. Elsewhere, Bani reveals why she married Veer. She also shares her gut feelings about Mayuri without revealing her name. Jai says he does not think that Veer would be the one behind his attack. She asks him to investigate and share her feelings with him. Bani and Jai apologise to each other, The former vows to kills everyone from the cheel clan. Mayuri sees Bani with Jai. She tries to probe her about Jai. As Mayuri touches Bani, she gets a vision of Mayuri being a peahen. Bani is scared, however, she stands tall. They both come in their real avatar and start fighting. Mayuri screams and everyone comes out. Bani and Mayuri, to save themselves from revealing their true forms, jump in the mud. While they are having a fight, Veer's cousins cheer. Veer enjoys seeing Bani furious with Mayuri thinking she is jealous. Balwant stops Ponky from recording their video. Mayuri pushes Bani and she hurts herself, Veer stops the fight seeing her hurt. He takes her upstairs. Also Read – Naagin 5 actor Sharad Malhotra vows to take THIS action if he sees anyone doing drugs on set
Jai reaches the house where he was imprisoned. The kidnapper asks him to sit down and ties him up again. Jai plays accordingly. Veer helps Bani as she hurts herself on the back. They share some tender moments after a short fight. Bani gets Jai's call but she cuts the call when Mayuri eavesdrop on her. They have a fight, this time only with words. They both know about each others' true faces and Bani successfully stops her from planning something evil. Bani sleeps on the couch while Veer sleeps on the bed. She ponders over Lord Shiva's condition. According to the condition, Veer has to attack Bani first. In the morning, Balwant's delegates reach Singhania mansion and elsewhere, Bani plans to instigate Veer. Mayuri takes drinks to the meeting. Bani wears Veer's given gift. Veer enjoys seeing them fight, thinking Bani is jealous of Mayuri.
Bani joins Balwant, Pawan, Tapish and the delegates. Bani serves drinks and snacks to the delegates. Balwant and Pawan are embarrassed by Bani's behaviour. Bani drinks water claiming it to be vodka, Veer is furious. Elsewhere, Mayuri reveals to Shukla that they both know about each others' identities. Mayuri plans to eliminate Bani with Shukla. She plans to use Naag-fani. Shukla warns Mayuri to be careful. Shukla goes to get Naag-fani. Bani gets tipsy while at the meeting. Bani keeps asking for Veer's whereabouts. Balwant wats Bani to stop but she starts dancing. Veer watches Bani's new avatar from afar. He finally makes entry and Bani is happy. She plans to instigate him and kill him. However, Veer does not get angry.
Stay tuned to BollywoodLife for the latest scoops and updates from Bollywood, Hollywood, South, TV and Web-Series.
Click to join us on Facebook, Twitter, Youtube and Instagram.