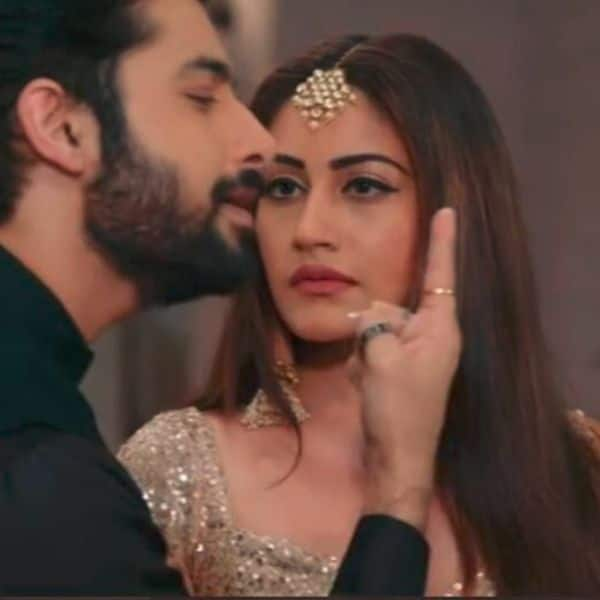 The episode begins with Pandit ji and the snake charmer seeing the moon going away and the other moon having the stain on it. It's presumably a bad omen. Bani is shocked to see Veer there. She thought she had killed him but it was his brother who was killed. Bani feels guilty as she might have killed an innocent person. Veer confronts her for killing his brother. She says that it was Veer who killed Jai and that's why she killed his brother thinking that he was Veer. Veer tells her that his brother never used to come out of his room and might have come out after knowing that there was a shaadi happening in the house. Veer asks Bani how he killed Veer on her own and if he saw anything unusal. She doesn't reveal him the truth. Also Read – Naagin 5 19 September 2020 Written Update: Veer marries Bani to avenge his brother's death, but there's a twist
Veer ties one end of a dupatta to her waist and the other one to his waist. He then lifts his brother and walks out with him, while Bani is still tied to him. They reach a cave, where an eagle idol is kept. Veer opens a coffin and puts his dead brother's body in it. He keeps some wooden logs on it and burns the dead body. Bani is shocked. Also Read – Bigg Boss contestant Manu Punjabi makes fun of Surbhi Chandna and Mohit Sehgal's scene from Naagin 5
Veer tells Bani that he will marry her so that he can avenge his brother's death. He takes her to his house. Shukla tells that she must have heard everything and Balwant wants her killed. Bani waits for them to attack her first. Veer tells them that he is marrying her. Balwant opposes the marriage and leaves along with everyone. Veer gives Bani an option. He says that he can marry Bani or her sister, Meera. Bani says she will not let him marry her sister. They get married much against Bani's wish. Veer says Shukla forgot to bring sindoor and applies black tilak on her hairline instead. He then brings chain and ties around her neck, and tells her that she will be captive all life now. Also Read – Naagin 5 13 September 2020 Written Update: Bani kills Veer after Jay is murdered by the Cheels
Shukla comes to the eagle God and tells that he has killed Veer's brother using the magical knife. He tells that he had seen Aadi Naagin and that's why he killed Veer's brother so that he kills her. But Veer got married to her.
Bani comes to her home along with her husband, Veer. Her family members are shocked. Veer brings them gifts. Bani tells Meera in private that that they have killed Jai. She says that she will kill the Singhanias one by one.
Veer brings Bani home. His brothers give Bani a challenge and she takes Veers help. Veer then carries her to her room. He ties her and tells her that he's going to alone. Bani dares him not to.
Stay tuned to BollywoodLife for the latest scoops and updates from Bollywood, Hollywood, South, TV and Web-Series.
Click to join us on Facebook, Twitter, Helo and Instagram.